Outdoor Kitchens are perfect for family events in the yard. You can easily have barbeques, which allows you to bond as a family.
Below are my tips for a perfect, outdoor kitchen:
1. Consider Where You Will Put Your Outdoor Kitchen
Take into account how much natural light it gets, who can see it from their windows, and how far away it is from activities like swimming pools.
If your yard is small or if there's lots of traffic on your street, you might want to keep your outdoor kitchen small so that it doesn't overwhelm your space or cause extra noise issues with neighbors.
2. What Type Of Dining Table And Chairs Would You Prefer?
Determine what type of dining table and chairs you would like for your outdoor kitchen.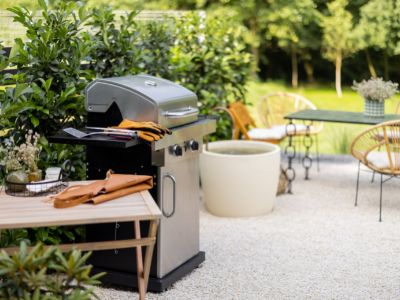 You may already have some ideas about what style you want for your backyard patio furniture, but if not, take time to consider all of your options.
3. Check Magazines for Inspiration
Look at pictures of outdoor kitchens online and in magazines for inspiration.
You don't need to copy someone else's design exactly; instead, use these images as a jumping-off point for creating something unique that fits in with your home and lifestyle.
4. Choose An Outdoor Grill
There are many different types of grills available, including gas grills, charcoal grills, smoker grills, and more.
Each has its own advantages and disadvantages—for example, gas grills are easy to start up but they don't offer quite as much flavor as charcoal grills do—so decide which type works best for you before purchasing one.
5. Do You Want An Indoor Grill or An Outdoor Grill?
Decide whether you want an indoor grill or an outdoor grill for your new outdoor kitchen.
Indoor grills tend to be cheaper than outdoor ones, but if you plan on using your grill year-round then an outdoor model might be a better investment.
6. Pick Out Bar Stools For Your Bar Area or Countertop Seating Area
Bar stools make great additions to any eating area because they allow people to sit comfortably while enjoying drinks and snacks together during parties and get-togethers.
7. Buy High-quality Appliances For Your Outdoor Kitchen
Appliances such as sinks, refrigerators, and ovens should last a long time if you purchase them from well-known brands such as Viking, Subzero, and Wolf.
8. Purchase Quality Accessories To Go Along With Your Appliances
You'll want to pick out items such as faucets, cabinets, and drawers that match well with each other so that everything looks cohesive when it comes time to install everything in your backyard.
9. Find Durable Materials For Your Outdoor Kitchen
It's important to choose materials that won't wear down easily over time so that you can enjoy your outdoor kitchen without worrying about replacing parts often.
10. Family Safety is Vital
Make sure your outdoor kitchen is safe and accessible to everyone in your family.
This means having non-slip flooring, wide doors and counters, and plenty of lighting throughout the space so everyone feels comfortable using it even after dark.